Bloomfield, CT | March 16, 2021
Deringer-Ney Inc., a global leader in precious metal alloys, micro manufactured parts (MICROmfg®), electrical contacts, and precision components for medical devices acquires Hoyt Corporation, a leading provider of electrical contacts, copper extrusions, and contact assemblies.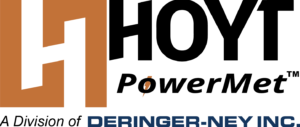 The acquisition supports Deringer-Ney's strategy of diversification within the electrical contact industry by addressing customers' need for higher voltage systems and alloys to support future electrification and infrastructure expansions.  Additionally, Hoyt Corporation's expertise in silver infused products and powder metallurgy is an exciting expansion to Deringer-Ney's globally recognized brands of high performance materials, such as Paliney® and NeyoroTM.
"We're excited to bring Hoyt Corporation into the Deringer-Ney family and introduce their unique product offerings to our diverse customer base", says Ryan Elliott, President of Deringer-Ney.  "The combination of Hoyt Corporation and Deringer-Ney allows us to present customers with electrical contact solutions ranging from millivolts to high voltage systems."
About Deringer-Ney
Deringer-Ney Inc. is a global market leader in the invention and application of custom precious metal alloys and precision machined, stamped, insert molded and micro cold-formed components.  Applications include automotive position sensors, low current sliding electrical contacts, dental implant materials, semiconductor test, military and aerospace components, and materials for interventional and implantable medical devices.  Manufacturing centers are located in Bloomfield CT, Marshall NC, and Nogales Mexico.
About Hoyt Corporation
For over 65 years, Hoyt has been a prime manufacturing source of quality electrical contacts, and contact assemblies for both the Electrical Original Equipment Manufacturers (OEM) market as well as the replacement aftermarket supplying rebuilding and service shops around the world.  Hoyt manufactures a vast array of both standard and custom-designed electrical parts.  Our skilled technical staff provides customers with value-added engineering, whereby, products can be duplicated exactly or redesigned and engineered for improved economy and performance.  Manufacturing centers are located in Englewood, NJ and Birdsboro, PA.
Schiff Hardin LLP served as deal counsel to Deringer-Ney on the transaction.
BCMS Capital Advisors LLC acted as the exclusive financial advisor to Hoyt Corporation on this transaction.